Grauw's blog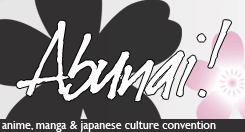 Well, I'm back home. The past weekend I went to the Abunai anime convention, and it was cool. Watched anime, spent a lot of money (sigh), karaoked, gamed, and even... cosplayed! I guess I'm a real otaku now… noo, I don't wanna be that, snif.
I had two outfits, one being King Louis from Rose of Versailles (the king that got decapitated in the French Revolution), and a Random Oz guy no. 206 from Gundam Wing (they are usually cannon fodder). Didn't make them myself, Christel (of our party of five) did the hard work for me (thanks!).
But anyway, I like the more informal atmosphere compared to the bigger Animecon, the large amount of Japanese culture related events other than just showing anime, and the smaller scale. The cheap drinks, catering and camping is also a huge plus. Maybe that's because it's being organised by a student society. Downside is that things were a little chaotic at times. But I don't really mind, because they gave away free Pocky as an apology :) (in the Netherlands better known as Mikado).
Hot picks were a Jun-Ken-Po (rock-paper-scissors) competition, a noodles slurping competition, a karaoke competition and a 'wave your arms' DDR-like game in the games room. There were also a lot of acts during the cosplay event, and they were all very 'high quality'. Good anime series that I newly discovered are Dual and The Violinist of Hameln.
In other news, for the past week there have been a number of weird problems with my hosting provider. However, everything seems to be fine now, so my website is back online. Whew.
Comments
None.