Grauw's blog
I've been playing Metal Gear Solid 4, just finished the first act, and I've found a number of cool MSX-related goodies already:
During the missing briefing for the second act, go to the kitchen upstairs with Metal Gear Mk. II… You will find Sonny playing Penguin Adventure on her PSP! Come close and put the Mk II's camera on the main screen, and you'll hear the tune too. I assume she is playing through the Konami Antiques MSX Collection PS1 that was released for the PSP (on PSN) in Japan :). Penguin Adventure is Hideo Kojima's first game.
Also, while playing you will find several tunes for the game's iPod. So far I've found "Theme of Tara" (MG1 opening, PSG, also an orchestral version), "Theme of Solid Snake" (MG2 opening, SCC), "Level 3 Warning" (MG2 battle tune, SCC), "Zanzibar Breeze" (MG2 second opening, cover).
And, of course, Metal Gear Mk. II also appeared in Snatcher… It got some updates (an LCD screen instead of CRT, and wheels instead of tripod-feet), but otherwise it's the same one :). I don't have a scanner here and because it's night my cellphone's photo camera can't really take good pictures, but here's a photo of the page in the Snatcher manual describing Metal Gear Mk. II: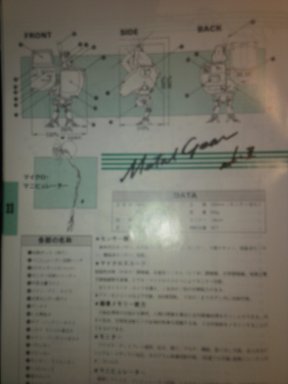 Finally, here's a cool picture of Anne de Raad getting an autograph from Hideo Kojima on his SD Snatcher original. I'm so jealous, I should've gone to get my Snatcher original signed too!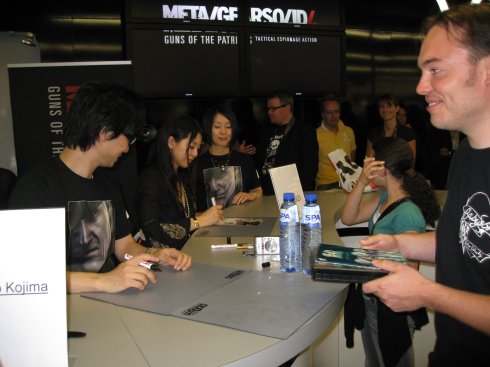 Comments
I couldn't be there
by GuyveR800
at 2008-06-18 11:24
I really wish I would've been able to be there too! But I was in Spain for the Barcelona RU MSX meeting...

Anyway, nice to hear about the MSX references in MGS4! (But why didn't you buy the game at my shop!? ^^;)